In 2010, JKS Architects completed a renovation of Christian County's famous Alhambra Theatre.   The renovation was chronicled in the following article in Quality Construction magazine.
Building a Future Through History -Alhambra Theatre is Renovated to its Original Grandeur
By Deanna Strange
From classic stage productions of Shakespeare to vaudeville to film, entertainment constantly evolves and reinvents its conventions. Opening its doors in 1928, the Alhambra Theatre has included a broad array of entertainment, including all of the above. This landmark theater, located in Christian County, Kentucky, was acclaimed upon its initial opening as the "most beautiful and practical theater in America."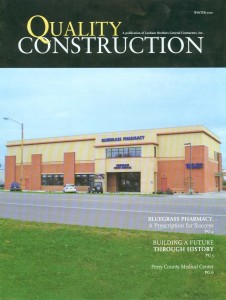 Drawing inspiration from a Spanish castle, the theater offers elements such as ornately upholstered furnishings, climbing ivy and roses around windows and coats of arms, welcoming its first guests to the silent film Don juan. When the theater began to age, the community and, specifically, the Pennyroyal Arts Council banded together to gather funds and restore the theater to its former glory.
The original design was done in a Spanish-Moorish style, with ivory and gold colors used throughout the lobby, serpentine columns and intricate moldings at the ceiling.
According to Ted Farmer, project manager with JKS Architects, "It was pretty unique. We've done renovations before, but not historical," he said. "It did affect design, and we tried to copy that style."
JKS collaborated with Lanham Brothers General Contractors to renew the theater without taking away from the Alhambra's classic look. The renovation included redesigning the lobby while maintaining architectural elements and concepts and adding stage lighting, sprinkler systems, handicap-accessible bathrooms and other features the original layout did not offer.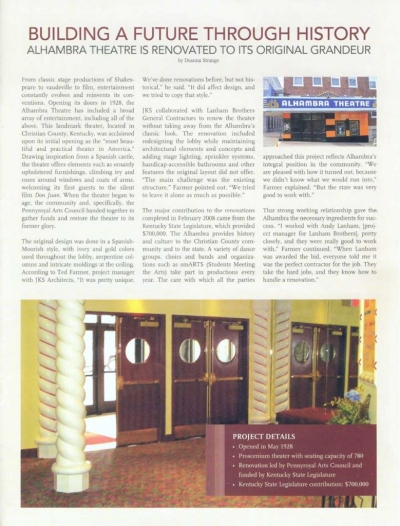 "The main challenge was the existing structure," Farmer pointed out. "We tried to leave it alone as much as possible."
The major contribution to the renovations completed in February 2008 came from the Kentucky State Legislature, which provided $700,000. The Alhambra provides history and culture to the Christian County community and to the state. A variety of dance groups, choirs and bands and organizations such as smARTS (Students Meeting the Arts) take part in productions every year
The care with which all the parties approached this project reflects Alhambra's integral position in the community. "We are pleased with how it turned out, because we didn't know what we would run into," Farmer explained. "But the state was very good to work with."
That strong working relationship gave the Alhambra the necessary ingredients for success. "I worked with Andy Lanham, [project manager for Lanham Brothers], pretty closely, and they were really good to work with," Farmer continued. "When Lanham was awarded the bid, everyone told me it was the perfect contractor for the job. They take the hard jobs, and they know how to handle a renovation."